COVID-19 Returning to the office
A commentary of Safe Work Australia guidelines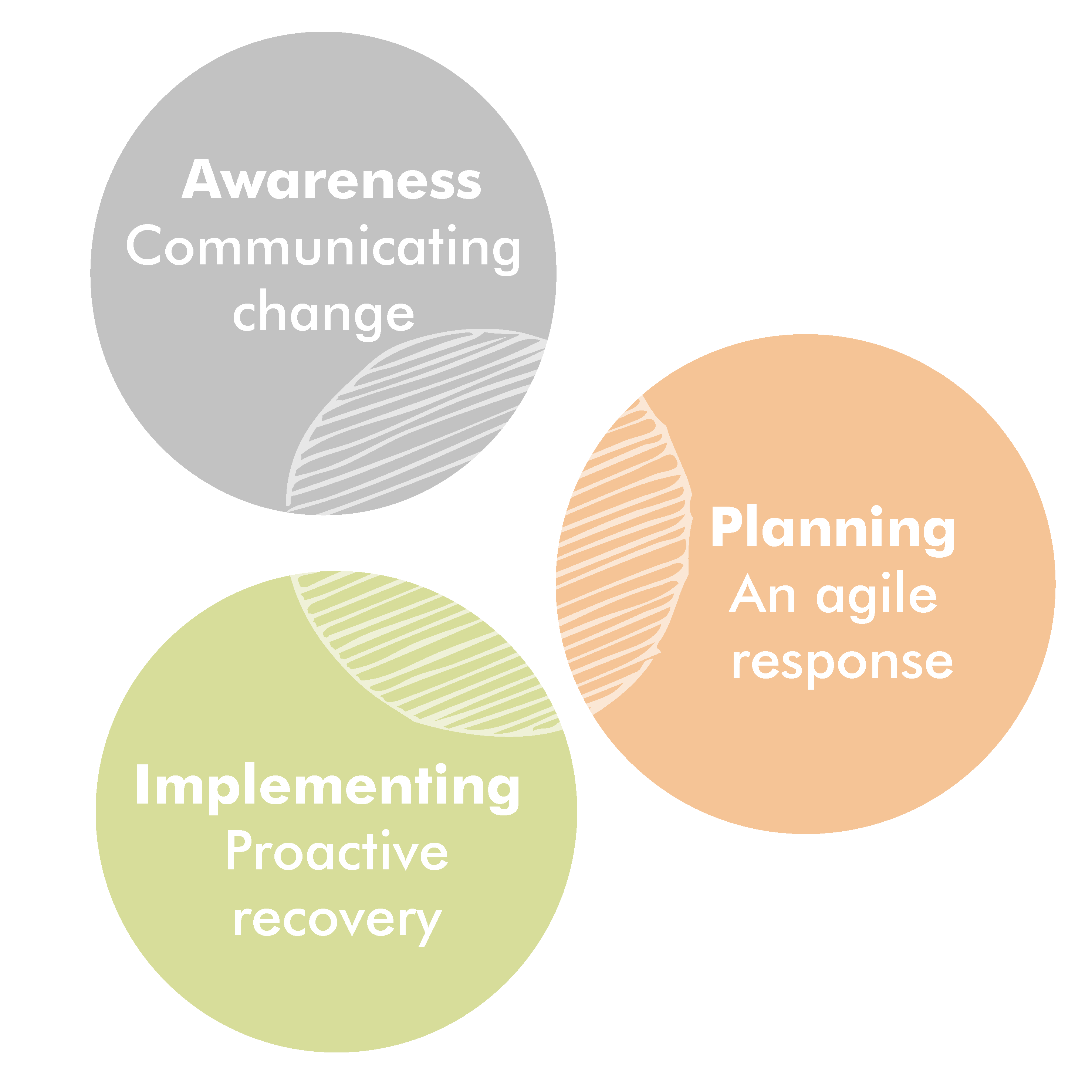 As an employer, what can you do to make your workplace safe?What measures can your employees expect to see?
As workplace design strategists we can help your business
implement the guidelines
create awareness
build a sense of reassurance
move towards recovery
develop an agile response
As organisations return to work during the COVID-19 pandemic, here in Australia employers remain responsible for ensuring the workplace is safe.
In April 2020, Safe Work Australia released guidelines highlighting measures which enable a safe return to the workplace. Safe Work Australia is a national authority; however, each state may have their own guidelines in addition to these.
The guidelines suggest hygiene protocols, physical distancing guides and business continuity planning. Industry specific checklists, signage and other resources can be downloaded from the Safe Work Australia website. We have curated some of our go to resources below.
Work Behaviours and Protocols
Individual behaviour is a key focus within the guidelines, including employees, customers and clients who enter the workplace. Considerations must extend to the daily commute of employees and their interactions within the building. Employers must consider each individuals' circumstances to provide options for employees to continue working from home. This includes guidance for employees to self-assess their working from home arrangements and the support they require, which will help the organisation decide which employees should return to work and when.
Behaviour is the most difficult aspect of a workplace to change, requiring frequent and consistent communication. Communication will also assist in reducing anxiety within the workplace and building confidence in returning to work. Safe Work Australia recommend businesses nominate a person on each work floor or point of contact person to liaise with staff and help ensure successful implementation.
Measures to ensure social distancing may include:
1.5m distance between people

Dedicated equipment for employees

The use of personal protective equipment

Clear directional signage for set pathways

1.5m distance markings on the floor and walls
Work Space
Social Distancing presents significant limitations to the number of people that can assemble in any space, the Safe Work Australia guidelines nominate a 'one person per 4 square metre' limit to enclosed space. Reconfiguration options should be considered, to enable changes that are easy for staff to adopt. Examples include removal of chairs in meeting rooms to suit the maximum capacity. The workplace must be designed around functionality and core activities.
The guidelines further state a minimum distance of 1.5m between each person should be kept, where people interact closely with one another. The Physical Distancing Checklist by Worksafe provides additional tools to assist with social distancing where 1.5m may be difficult to achieve, such as the layout of the workplace, traffic flow through the office and physical barriers. Any changes must be clearly communicated to employees.
Shared facilities, such as hot desks have been highlighted in the media recently as a key concern for employees returning to work. Chief Medical Officer Brendan Murphy has said 'hot desking would have to be done in a different way', cleaning and company policies will need to be reviewed in line with guidelines. These can be managed by providing sanitising stations and signage around shared facilities.
Work Tools
Tools and technology can assist in limiting unnecessary touchpoints and interactions, and communicate with staff. Logs and manifests can be used to keep track of people who have used a space and when it was last cleaned.
Use and participants in meetings can be managed through booking systems. Technology can be used in many instances to reduce the need for face to face meetings. If a case becomes apparent within the workplace, it remains the employers responsibility to implement a risk management and business continuity plan. All practicable measures are to be taken by employers to safeguard staff and encourage communication at all levels.
Safe Work Australia suggests a number of tools to limit touchpoints:
Online meetings in lieu of face to face, where possible

Online daily communication with employees both in the office and working from home

Technology to provide reminders and promote awareness. Automatic alerts to remind employees about hygiene

Touch free access within the office

Touch free transactions with clients and customers

Develop a Business Continuity or Emergency Plan in the event of infection, which should consider how your business can best support staff and protect the business.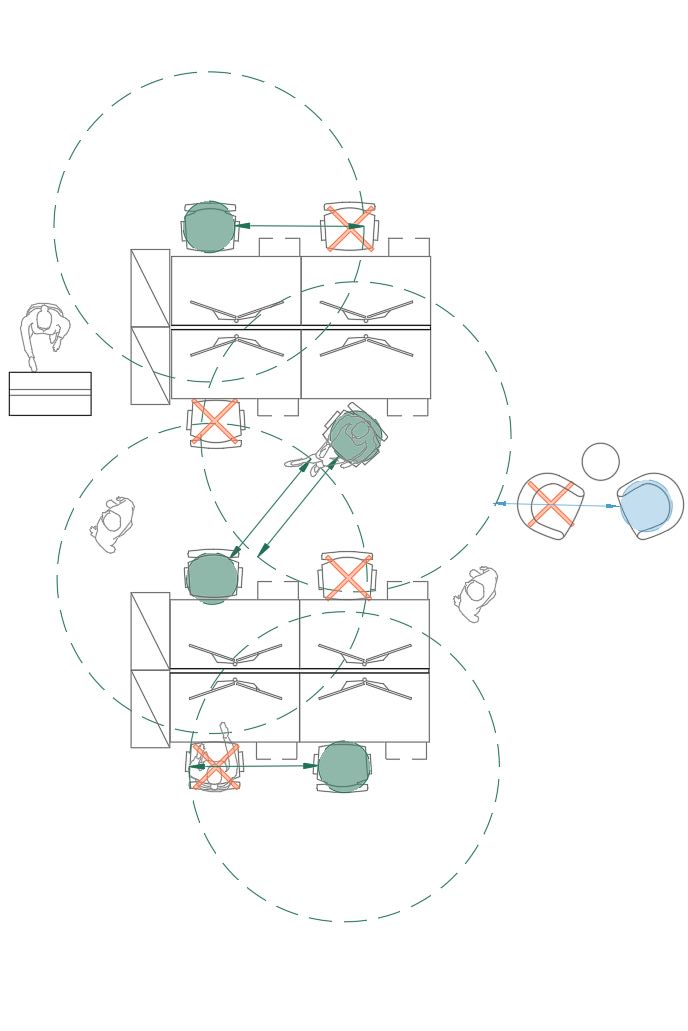 Our strategy template overlays the Worksafe Guidelines quickly and clearly.
Applying the Guidelines to
respond
recover
create awareness
Resource Architecture COVID-19 Design Assessment Services
We have been working with our clients to develop useful tools to evaluate the workspace, based on these guidelines. These tools assist the organisation in developing its work plan as staff begin to return to the office. This data could form part of your workplace and business continuity plan.
Our service works with your existing space -
Create a floor plan with 1.5 meter distance rules to illustrate social distancing. This will quickly calculate staff numbers as a base level without design alterations.

Shared space area calculations in line with guidelines.

Identify frequent touch points.

Propose temporary space adjustment such as standing meeting zones, storage space and potential solutions that could increase occupancy.

Consider initiatives around building access, lifts and bathrooms.

Guide on signage, sanitation and record locations.
Act Now
Book a complimentary consultation with our team to learn more about how we can assist your business.
Next Steps
We will create a Work Space Assessment, reviewing your existing space to identify key issues to be addressed.
Future Plan
Guided by your needs this may include creating a Work Plan Assessment, Implementation your Initiatives or developing a Collaboration Strategy.
How can we help your business? Arrange a consult with our team today.