The Human Side Week 4 : Connect Isolated Groups
Graham Kirkwood - 29 August 2013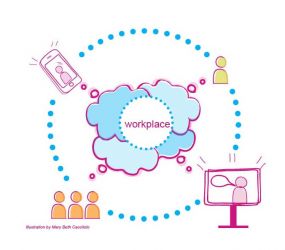 The workplace is no longer where we may get our best work done, or where we may be the most productive. So what is the workplace for? "People need people, people need technology, and people need spaces that bring those two together in effective ways." With mobility increasing, the requirements of the physical workplace are evolving. Emphasis should be placed on keeping mobile workers connected to the workplace, while improving human connections between employees who already work within the office.
Improving human connectivity in the workplace starts with an understanding of the organisation's groups and how they operate. With mobile technology, the idea that efficiency lies within placing adjacencies according to work production/process may no longer be necessary. Designing to support human interaction in the workplace however, is still relevant whether it is through connecting in person, or through provided technology, i.e. teleconferencing, etc. So with the physical workplace being a catalyst for providing these connections, how can we design to improve them?
Leverage technology to connect isolated groups
Stay connected by using online collaboration and knowledge management tools. Programs such as Basecamp, which is used by our team at Resource Architecture, make communication easy and efficient especially when employing a flexible workplace strategy. Ensure these tools are properly integrated into business applications and provide necessary training. If its too complex, it won't get used.
Leverage video conferencing, voice teleconferencing, and consumer technology to provide users with a variety of ways to communicate in the ways that work most efficiently for their type of work.
Embrace advances in consumer technology and plan for the increase of future integration of personal devices into the workplace. This will likely require coordinating additional data security with your IT department.
Increase mobility through wireless connectivity within and outside of the workplace.
Introduce Apps which keep track of where groups or individuals are working.
Leverage physical space to connect isolated groups and support a variety of interactions
Place isolated groups adjacent to "well-connected" ones or near a major thoroughfare to help increase knowledge transfer.
Overlap spaces and create €œlinks€ by placing shared resources such as cafes near main floor entrance or main circulation to create serendipitous communication.
Make boundaries more transparent within the space by leveraging views for visual connections and using permeable boundaries where auditory eavesdropping may be beneficial for knowledge sharing.
Create "in-between spaces" that encourage informal 2 minute conversations
Leverage protocols that encourage knowledge creation through the structure and operations of the culture
Create an environment which supports and encourages knowledge creation. This concept, termed "ba" provides a platform for the €œresource concentration€ of the organisations knowledge assets. What kind of knowledge is valued and concentrated within the organisation depends on the business strategy.
Plan events to provide opportunities for people to share information and socialize. Socializing not only helps transfer knowledge, but also builds relationships, trust, and camaraderie. (Let's not forget it should also be fun).
Create a culture that acknowledges flexibility in the workplace may support better work/life balance, but also have incentives in place which encourage mobile workers to stay engaged and physically drop into the office every now and then for other reasons than work!