Leaning Forward within a Whole Community Series
Graham Kirkwood - 14 May 2019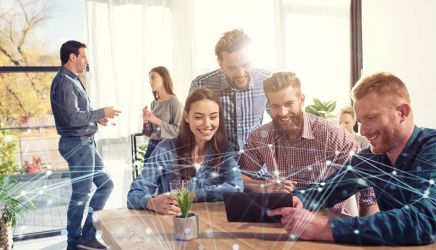 The Exemplar Workplace
The tertiary education sector is undergoing rapid and significant disruption in Australia. Universities are competing for international students who measure value in terms of international rankings and student experience, while government funding for research and teaching is becoming more difficult to secure. This in turn requires universities to build greater horizontal connections across faculties, institutions and industry.
In 2016 the Vice Chancellor of La Trobe University, John Dewar, saw the opportunity to introduce new ways of working among academic staff, to enable what he termed "deep accountability and horizontal flexibility". Rather than applying traditional workplace design solutions and focusing on solving problems, he allowed the pilot group to define their own workplace solution built upon what matters and what works for them. Dewar's vision however was clear:
Use space to increase collaboration.
Leverage knowledge and expertise across all functions of the University.
Increase connection and agility.
More efficient and effective utilisation of existing space.
According to John Dewar:
"The primary purpose of this exemplar project is to demonstrate what's possible….. how we have to be able to experiment, innovate, learn and adapt. This is how we do our research; we take people from across disciplines to focus on a problem and they work together. That's the core of our research strategy. The same goes for our operating model; with the Matrix model people have to work together on different parts of the University to solve problems, if we don't, we just end up in silo's and people get battered around. It actually speaks to what we are trying to do."
Attempts by other institutions over the years to break down academic silos through building of open plan and activity based working environments have failed to gain acceptance from academics within the tertiary sector. Such solutions were also quickly rejected by the pilot group at La Trobe University. Rather, through a process of Appreciative Inquiry working with Resource Architecture, an entirely new innovative design concept emerged that is based on clusters of interdependent small teams. We call it 'Team Based Working', and believe this pilot may be the first of its type in the world, within the educational sector.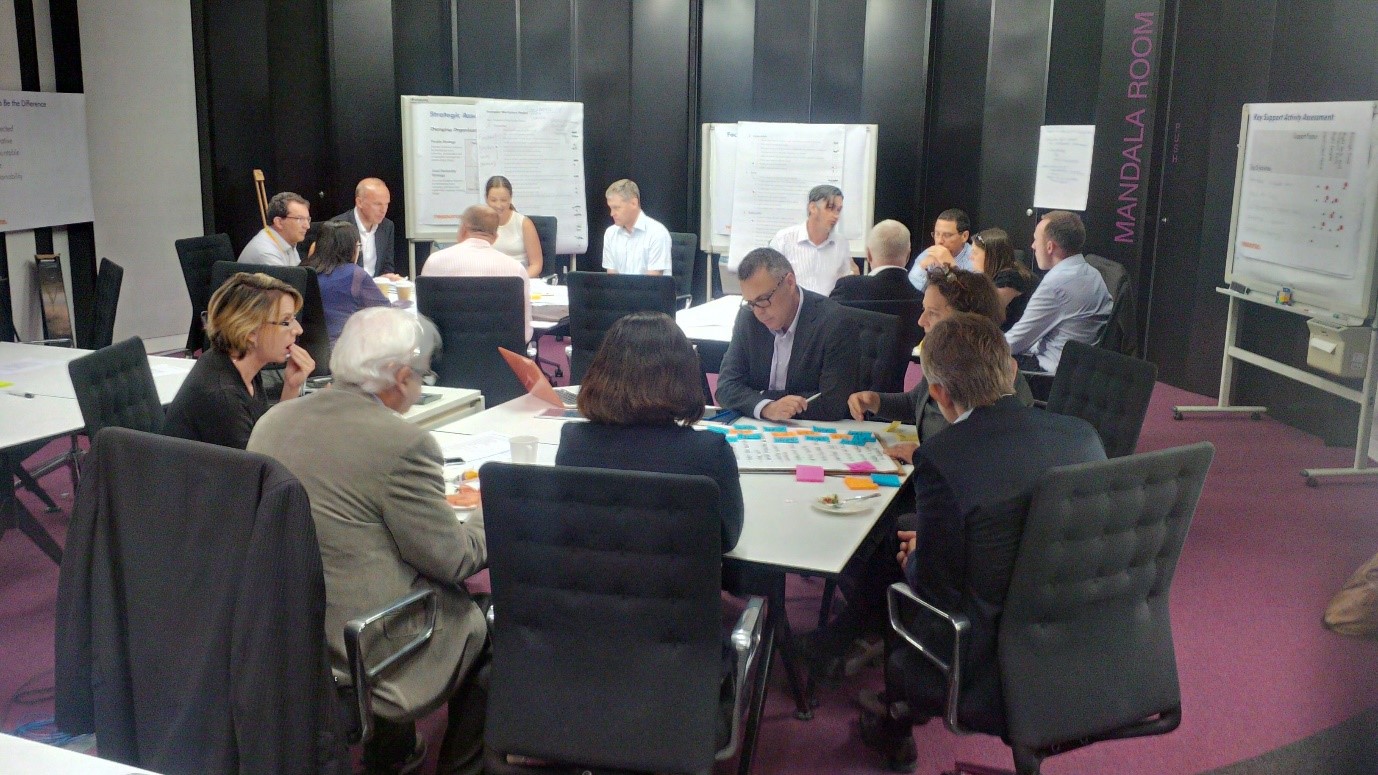 The workplace design that evolved was designed around the four dimensions of 'Leaning Forward': A relational dimension, a communication dimension, an inter-dependency dimension and an agility dimension.
Workplace Enablers
In Part 2 of this series we describe each of the four dimensions of 'Leaning Forward' built around a core of trust and shared purpose. In addition we describe seven behavioural patterns that support the four dimensions illustrated in the diagram below.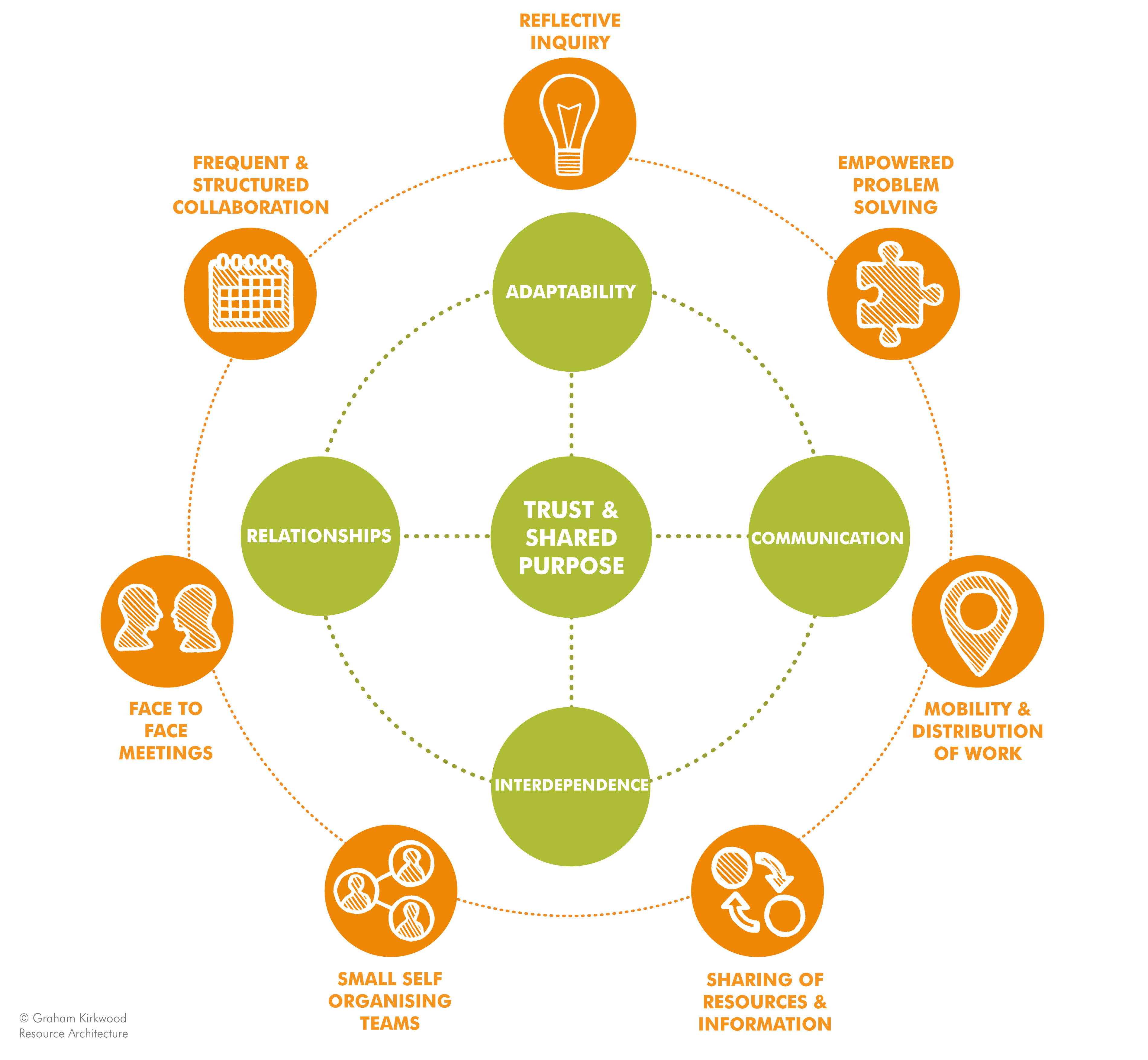 These behavioural patterns are supported by the physical workspace and worktools. At the La Trobe University Exemplar workplace the design response to each pattern is set out below:
Small Self Organising Teams
Research shows that an ideal work team is between 4 and 8 people, never more than 12. This is based not only on the span of control doctrines, but is also the capacity of any person to build close knit relationships among their colleagues. In this way, it provides an element of psychological safety.
Within the La Trobe University Exemplar Workplace, the workspaces are half enclosed 'team domains', built to accommodate between 4 and 8 people. Although the domains are not strictly allocated to a single team, team artifacts such as task boards, display panels, lockers and team storage are clustered so the team intuitively gravitates towards and settles within the closest domain. Each domain is visually and physically connected to neighbouring teams and shared spaces overcoming the risk of teams becoming silo'd.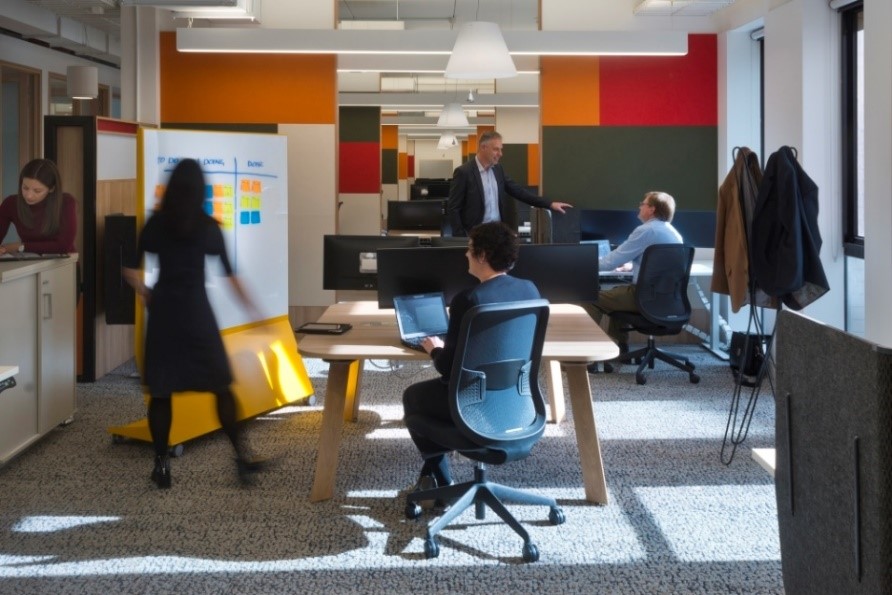 A typical Team Domain with a variety of un-allocated work settings.
Sharing of Resources and Information
Desks are un-allocated and people are encouraged to work among other team domains depending on the need to collaborate or find a space suited to the task in hand. The ratio of people to desks is 1:1, and given that the peak occupancy is 75%, there are always free desks available. This encourages external collaborators to share the space for special projects and provides capacity for growth. At the heart of the space is the 'Welcome Piazza', a large open space adjacent to the reception, accessible to the broader community. Central to this space is a beverage fountain. The space is at the central circulation intersection of the floor and people intuitively cross paths for informal two minute conversations.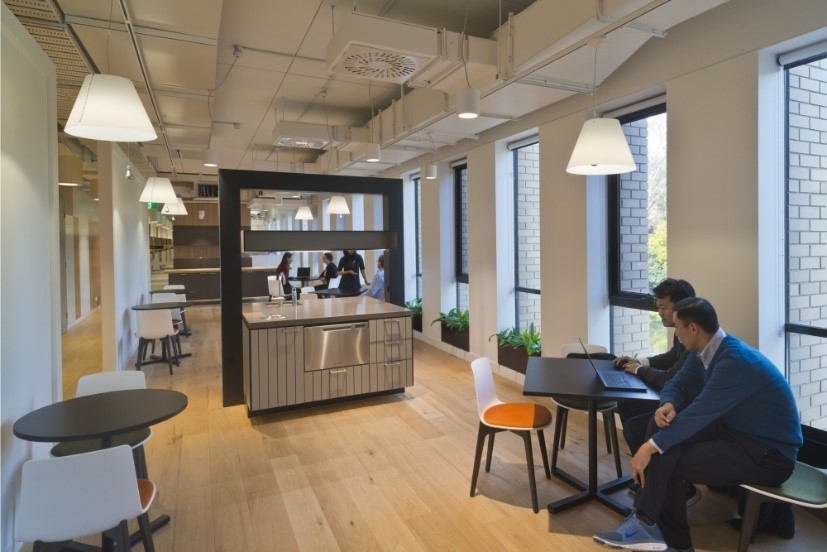 Welcome Piazza, where visitors are welcomed and people informally interact
Mobility and Distribution of Work
Greater mobility and distribution of work enables team members to work alongside other collaborators, teams or customers. Within this workplace, every team member has a soft phone and a laptop equipped with mobile working apps and web conferencing tools. Generous and secure personal lockers are allocated to each team member, equipped with power outlets to enable overnight charging.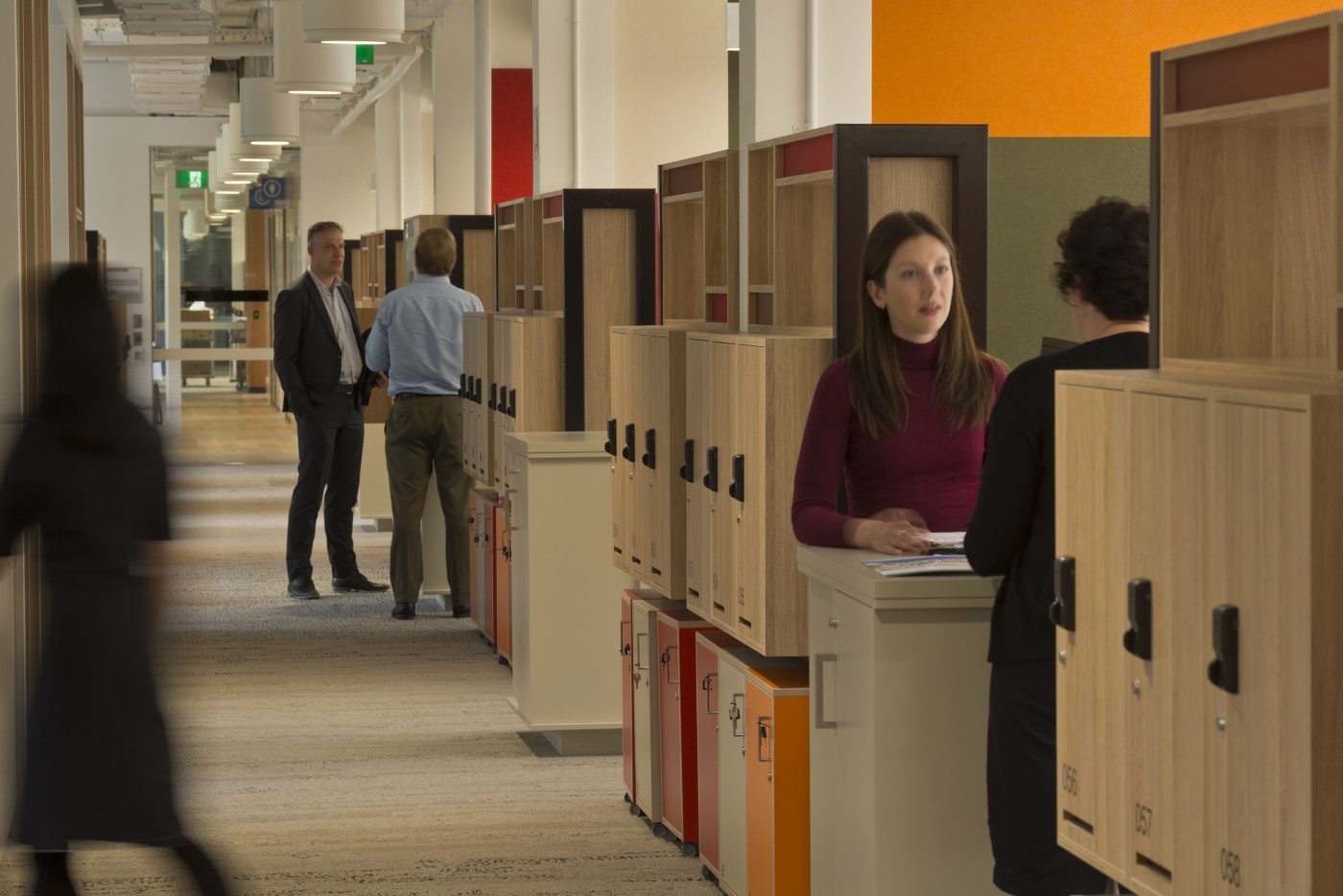 Personal lockers with proximity card locks and charging ports
Empowered Problem Solving
Enabling the team to solve problems at the source, rather than seeking executive authority, improves the quality and speed of decision making. Each team is equipped with a 'task board' which is the centrepiece of agile methodologies and team accountability. There is also a dedicated space called a Hive which provides a place for team leaders, project teams and external collaborators to gather, share information and solve problems collaboratively.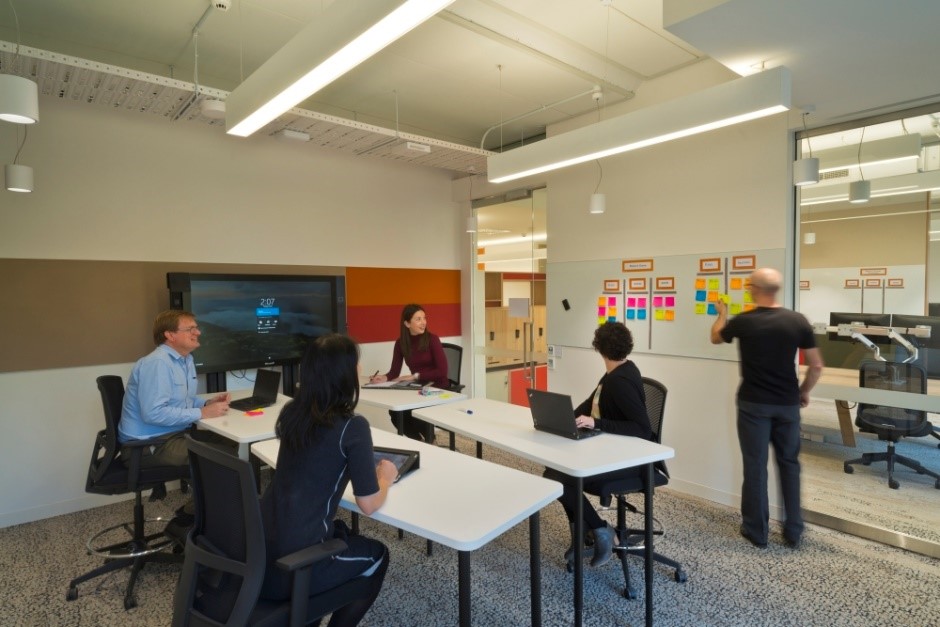 Project Hive, where team leaders connect, share information and solve problems
Reflective Inquiry
Reflective inquiry requires containment so people feel able to deeply reflect and speak openly, which has both psychic and physical aspects. A closed room, e.g. a small quiet room for individual reflection or a meeting room for group reflection works best, so people don't worry about being overheard, and their reflections taken out of context. At La Trobe University a variety of spaces were provided. Such rooms when designed well provide a view into a garden or outdoor space.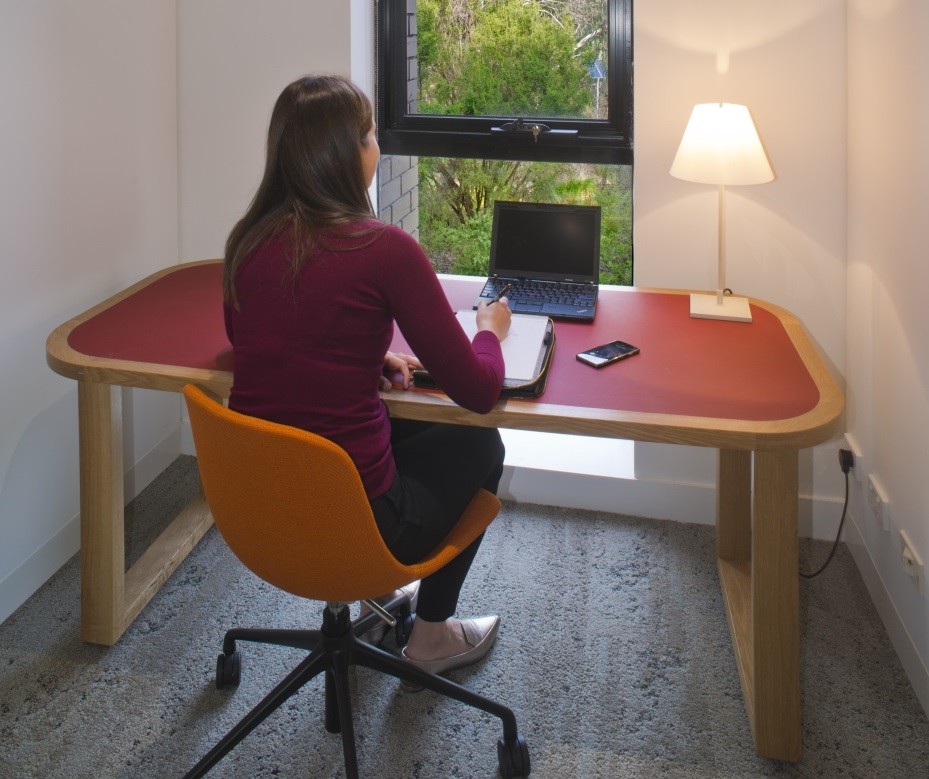 Quiet Room for individual reflection and contemplation with a view
Frequent and Structured Collaboration
Collaboration can be a millstone, without structure and discipline. Agile methodologies can play a part in capturing and disseminating information more rapidly. Within the La Trobe Exemplar Workplace, a central scrum (huddle) space is provided, equipped for frequent, disciplined and fast collaboration. Each team is encouraged to conduct daily 15 minute stand up meetings with the entire team, using web conferencing tools to connect those who are located elsewhere.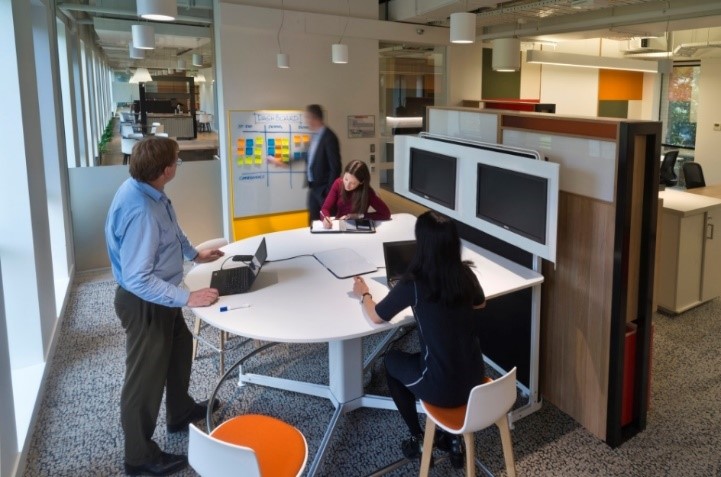 Team Scrum/Huddle for daily 15 minute stand up meetings
Face to Face Meetings
With web conferencing and greater mobility, people no longer have a reason not to engage others face to face. The La Trobe University Exemplar Workplace provides a variety of shared collaboration spaces separate from the team domains. These range from 2 person 'Focus Nooks' to larger 'Drop In Rooms' in addition to a variety of meeting rooms. While mobile technology enables people to connect to video conferencing through their laptops, larger rooms also provide video conferencing tools for teams that enable people to connect face to face anywhere and anytime.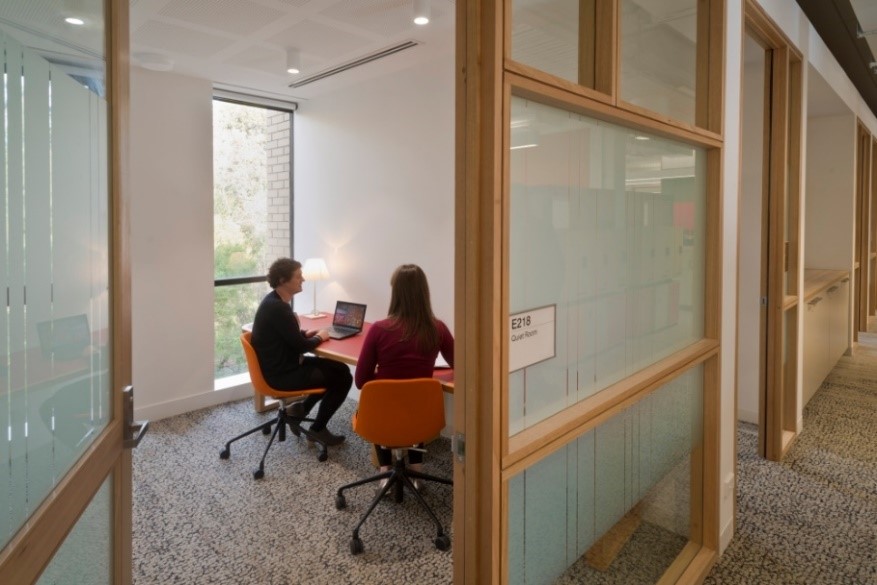 'Focus Nook' for mentoring or working in pairs
Performance 12 months after occupation
Performance data was collected by an independent organisation prior to moving, 3 months after moving and again 12 months after moving. The data was collected through pre and post-workplace evaluation surveys, focus groups and space utilisation records. While the survey outcomes demonstrated that user satisfaction improved overall by 30%, productivity was perceived to have increased by close to 40%.
The Exemplar Workplace is possibly the first of its type in the world, and is believed to be the first to have un-allocated desks within the university sector. The transition from each person having their own desk to having a team space with un-allocated desks was difficult for some. Overall satisfaction 12 months after the move has increased by an additional 5 % since the 3 month survey was completed, increasing the overall improvement from 25% to 30%.
Based on the outcome of the 12 month review, the La Trobe University Project Director, Infrastructure and Operations David Quigley reported the following:
"The results have been most pleasing, and I would like to take this opportunity to once again thank yourself and your team for you work in creating such a highly regarded space. If the results from the report indicate anything, it is that there is a very good chance that the University will be exploring similar fit outs in future."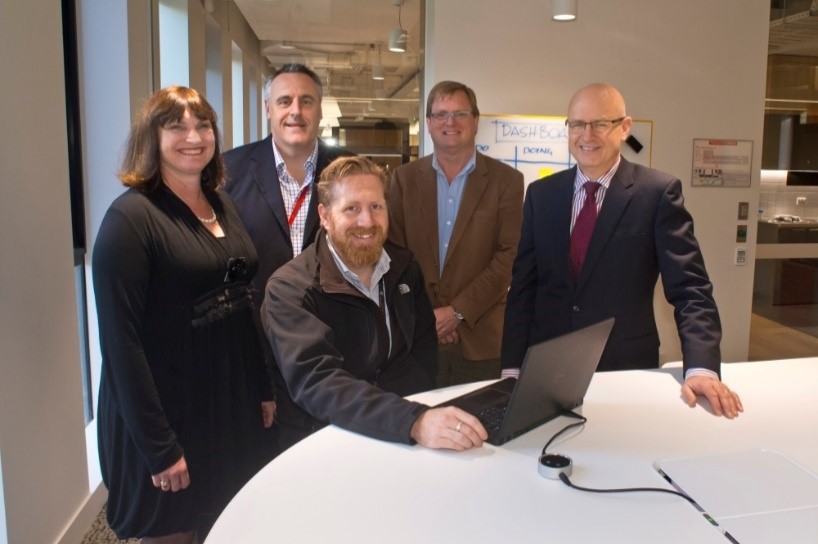 La Trobe University Exemplar Workplace Project Team from Left to Right: Dr. MaryAnne Aitken, Director Research Services, Professor Russell Hoye Pro Vice Chancellor Research Development, David Quigley, Project Director, Infrastructure & Operations, Graham Kirkwood, Director, Resource Architecture Dr Daniel Grant Pro Vice Chancellor Industry Engagement.
For more information contract Graham Kirkwood, Director, Resource Architecture Pty. Ltd.