Explicit Function, Implicit Design
Graham Kirkwood - 23 August 2012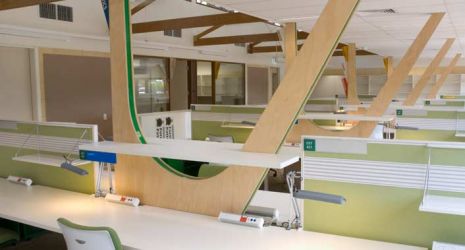 We care a lot about designing workplaces to make functionality explicit.
The Victoria Government's Department of Sustainability & Environment Level 3 Incident Control Centre at Heywood challenged us to think carefully about how we could make the purpose of this facility as intuitive as possible by interior design.
At the outset of any project, we always work with the client to define the project's success measures before we start. In this case, "to make workplace functionality and the AIIMS (Australiasian Inter-service Incident Management System) structure explicit" - would be a key benchmark.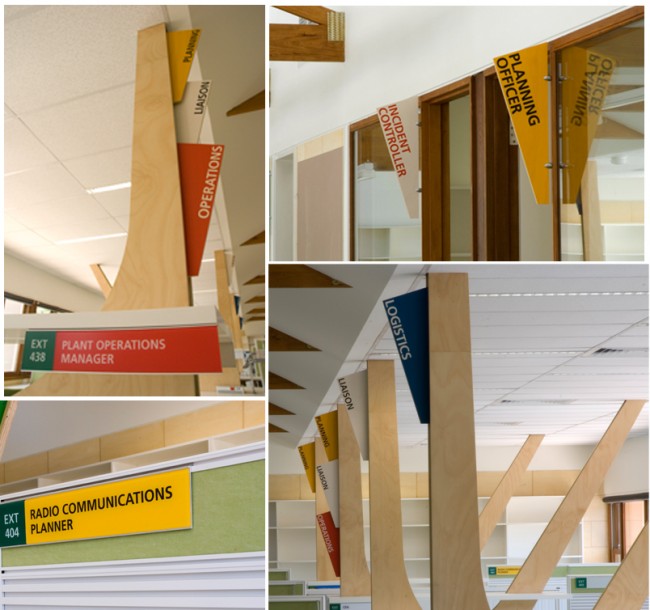 Without going into great detail about what AIIMS entails, the premise is that this incident management structure provides a common framework for coordinating agencies and departments to deal with emergencies - such as a bushfire, flood or other natural disasters.
Other constraints such as space limitations to the building footprint and budget, required a lateral approach to designing workspace which also:
Adheres to DSE Space Standards for Level 3 Incident Control Centres

Is compact and space efficient

Is able to accommodate and facilitate rapid change to manage emergencies

Provides a working space where everything has a purpose

And is welcoming to external agencies
So, how did we achieve this?
First things first - the reception area. Designed with enough room to cope with an influx of people, the space allows guests to take a seat and work if necessary, and functions as breakout space when occupied after hours. Making use of recycled timbers from the former site, the space is welcoming in that it reflects the local landscape through the wall features, and cues the focus of the building in terms of environmental management.
Emphasis on the office layout was critical. During an emergency, logistics, planning and operations teams form to provide functional clarity and direct the roles of individual personnel. These areas are arranged so that team leaders have good clear visual access to each other, recognising that non-verbal communication is also important for management during such critical situations.
Legibility of this layout was key to interpreting the AIIMS structure. By colour coding the divisions, the roles assigned within them and their position within the ICC becomes clear through a kind of tabulated way-finding system. Engaging a graphic designer to create highly legible internal signage was a cost effective design solution that helps to rapidly accommodate, and identify workstation positions of external personnel. Positions as roles with designated functions are extremely important in the AIIMS structure, and that is reflected in the workstation design. The simple idea of using plywood to support communications cabling also serves to support this signage and role demarcation without blocking views across the open plan.
User engagement managing expectations and transition to a new workplace is clearly key to the organisations success - addressing the from shift from enclosed offices to open plan environments can have a huge impact on how colleagues embrace a new working environment. Involving stakeholders, including external agencies was a key part of the ongoing client relationship. A post occupancy evaluation demonstrated that employees considered the new offices an overwhelming improvement across over 20 criteria.
This project was interesting because it presented the challenge of an atypical workplace. However, how does the question translate onto other workspaces, like office environments in the corporate, or public sector? What are the particular, pressing issues of workplace functionality within differing contexts?