Leadership + Simulation
Graham Kirkwood - 05 July 2012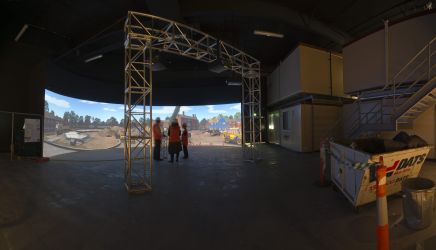 We're fairly proud of our association with Master Builder's Association of Victoria in designing the recently opened Building Leadership Simulation Centre in Port Melbourne.
It's the first of its kind built in the Southern Hemisphere, offering state-of-the-art simulation training for the building and construction industry. The centre is set to transform the way construction industry training takes place not only locally, but on the national and international scene. As you'll see, it's all about simulation and immersion.
In an early meeting with MBAV, the design challenge was put to us in just three words: learning, leadership and innovation.
The outcome is a training environment that takes the 'students' (in this case, members from all aspects of the construction industry) on a journey through training spaces that are so realististic, you might even forget it's a simulation! The physical space is supported by trained actors playing the roles of construction workers and a very hands-on and highly relevant curriculum.
It's arguably the most immersive learning environment we think we've ever come across.
At the launch, Master Builders Executive Director, Brian Welch said:
"The BLSC is the world's best training platform to deliver building industry improvements in productivity, safety, leadership and communication. It has the capacity to reduce OHS incidents, improve building quality and cut construction costs"
Master Builders' BLSC uses 3D technology, a 15-metre wide parabolic screen, 12 site sheds and a team of specialist actors to create a virtual workplace where participants confront the challenges of a real building site in a risk-free environment. The training centre aims to transform the cultures within the industry through its emphasis on growth of soft skills like communication and leadership qualities.

Brian Welch thanked the Gillard Government for supporting the revolutionary new approach to training, which focuses on communication, leadership and problem solving.

The Minister for Tertiary Education, Skills, Science and Research, Senator Chris Evans, officially opened the South Melbourne centre on 7th August, announcing $1.9 million in Federal Government funding to support the facility. Design and build came to $3.7m, and the project overall came to $14m - a huge investment on the part of the Master Builder's Association and the Federal Government.
The great news is that the biggest names in Australia's building and construction industry " including Australand, Baulderstone, Metricon, and Lend Lease " have already signed on as foundation partners - gaining widespread industry support from its inception. The facility can train thousands of people each year, from apprentices through to project managers.
The BLSC will also have a profound impact on the practice of workplace training more broadly as the potential of the simulation centre becomes realised.