Space Use Benchmarking: How does your workplace space ratio stack up?
Graham Kirkwood - 06 March 2013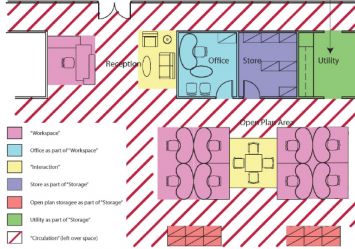 We have the knowledge to help with a broad range of benchmark space ratios that will measure how to best fitout your workplace.
Resource has developed a technique which fast tracks the process of establishing space needs and defers the need to consult Business Unit Managers. The technique is called Space Use Gap Analysis. By comparing existing space ratios with that of other similar organisations we are able to determine performance gaps and agree future target space ratios for your organisation in a fraction of the time normally required through more conventional processes. Example Space ratios include:
Net Lettable area per person
% of Net Lettable area dedicated to storage, circulation, interaction and equipment spaces
Number and area of meeting rooms
Size and number of offices and open plan workstations
Space Use Gap Analysis can be an integral part of:
Feasibility of of office fitout projects
Evaluation of alternative office tenancies
Preparation of generic and or pilot floor layouts
Verify appropriateness and challenge so called wish lists
Using this technique we have helped clients:
Reevaluate existing space requirement schedules
Determine savings in occupancy costs, cost of churn, and maximising effeciency of space
Revise corporate space requirements
If you are looking to identify performance gaps within an existing space, or establish target space ratios for a future office space we will help you define them through our auditing services.